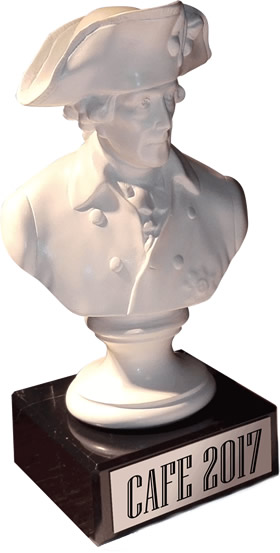 History
The Spanish Open Friedrich Championship (CAFE) was first celebrated in 2013. Initially an annual event, it is now biennial, alternating with FriedrichUK in York, England.
Tournament
All three international tournaments (the third being the World Championships in Berlin) are played over a long weekend. Starting on the Friday afternoon, participants play four games in succession, one in each of the four roles Friedrich, Elisabeth, Maria Theresa and Pompadour.
The four best-placed qualifiers go on to compete in the final on the Sunday afternoon, the winner becoming Champion.
Losing qualifiers typically watch the final or play their own friendly games on other tables.
Venue
CAFE is held in the Club Dragón, located in Calle Don Quijote, 5 in Madrid, Spain. Easy to get to from anywhere in Madrid, the area around the club offers shops, bars and restaurants to satisfy the needs of the participants.
Where?
CLUB DRAGÓN
C/ Don Quijote 5, semi sótano – 28020 – MADRID – ESPAÑA